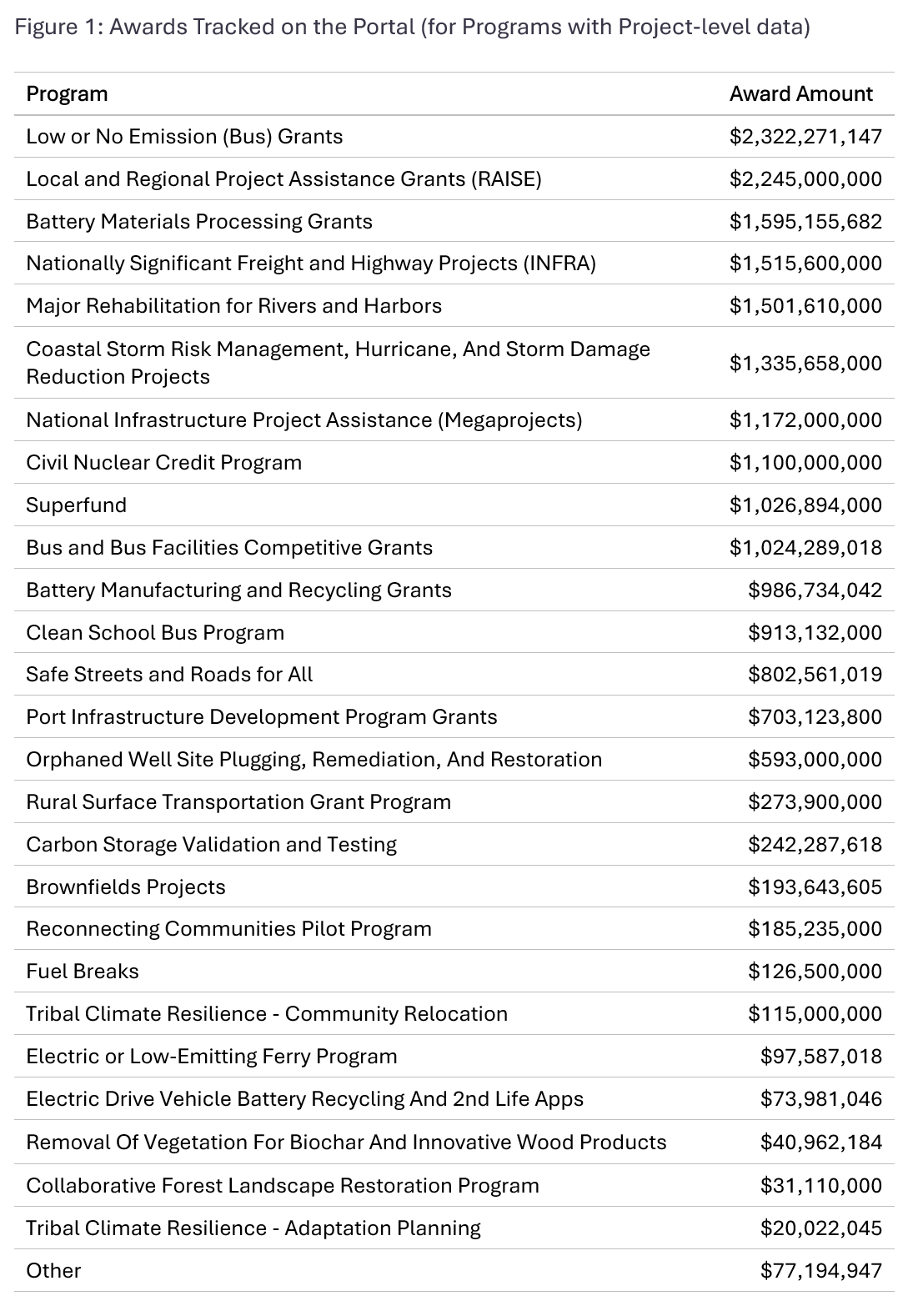 Since the enactment of the Infrastructure Investment and Jobs Act (also known as the Bipartisan Infrastructure Law) in 2022, we have seen a total of $20.3 billion in funding awarded across the country for 2,196 projects across 39 climate programs in the law. California, Michigan, New York, Louisiana, and Texas lead the way for states with the largest amount of funding awarded. There has been a further $9 billion in loan funding made available through the Loan Programs Office.
You can learn more about these awards in our new Outcomes Dashboard, which tracks awarded funding and actions from states to implement formula programs in IIJA and IRA. Users can break down the data in different ways and filter the dashboard for specific programs based on their needs. With the filters on the page and in the yellow filter bar, users can view the data by funding agency, Justice40-covered programs, funding type, sector, and more. For more on how to use the Dashboard, check out the onboarding video here. We will continue to update the dashboard as more funding awards are announced.
To give you a sense of where the funding is going and how it will be used, here are our high-level summaries of key climate programs that have been awarded so far. This builds upon the Annual Report we published in May 2023.
Local and Regional Project Assistance Grants (also known as Rebuilding America Infrastructure with Sustainability and Equity (RAISE))
On August 11, 2022, the U.S. Department of Transportation (DOT) awarded more than $2.2 billion from the Rebuilding America Infrastructure with Sustainability and Equity (RAISE) program to 166 surface transportation projects in urban and rural communities. Of that total funding, a record $123.8 million went to Tribal Governments. Additionally, 48 percent went to disadvantaged communities, as designated by the Climate and Economic Justice Screening Tool (CEJST). Funds will be used to move forward on projects that modernize roads, bridges, transit, rail, ports, and intermodal transportation. RAISE is currently the largest program by funding awards tracked on the Outcomes dashboard.
According to the DOT, 50 percent of the funding was awarded to projects in rural areas, and 50 percent to projects in urban areas. One of the rural area projects that received funding was Renewing Berlin with Renewable Energy in Berlin, New Hampshire. The city received $19.5 million to rehabilitate roads, sidewalks, and municipal parking areas and install a snow-melt system in Downtown Berlin. According to the City of Berlin's 2022 RAISE Grant Application, the project would "avoid ~6,898 metric tonnes of annual CO2e greenhouse gas emissions".
An urban area project that received funding was the Wilcox Boulevard Bridge – River to Ridge Mobility Project in Chattanooga, Tennessee. This $25 million project "will replace the Wilcox Boulevard bridge and will construct a 12.5 foot multi-use path on the southern edge of the project." Both projects will improve accessibility and increase reliable transportation for underserved communities. We tracked more of the awards in the Annual Report.
Battery Materials Processing and Battery Manufacturing Grants
The U.S. Department of Energy (DOE) announced $2.58 billion from IIJA for "projects that will support new and expanded commercial-scale domestic facilities to process lithium, graphite and other battery materials, manufacture components, and demonstrate new approaches, including manufacturing components from recycled materials." On October 19, 2022, DOE announced $1.6 billion of the total funding to Battery Materials Processing Grants and $1.2 billion to Battery Manufacturing and Recycling Grants. Together, these grant programs funded 19 projects focused on electrification in 14 states. The following year, two projects had their funding withdrawn for the Battery Materials and Manufacturing Grants. In May 2023, DOE withdrew $200 million from Texas-based battery manufacturer Microvast after their "connections to China had drawn criticism from lawmakers." In June 2023, Amprius and the DOE mutually agreed to end negotiations for a cost sharing grant, withdrawing $50 million from the proposed project.
Nationally Significant Freight and Highway Projects (INFRA)
On September 19, 2022, DOT awarded $1.5 billion in FY 2022 Infrastructure for Rebuilding America (INFRA) Grants for 26 projects across the country. The INFRA program "awards competitive grants for multimodal freight and highway projects of national or regional significance to improve the safety, efficiency, and reliability of the movement of freight and people in and across rural and urban areas." IIJA expanded INFRA eligibility to include wildlife crossing projects; marine highway corridor projects; highway, bridge, or freight projects carried out on the National Multimodal Freight Network; surface transportation projects located within or functionally connected to an international border crossing; and transportation facilities owned by a Federal, State, or local government entity.
These projects may deliver minimal or no significant climate benefits. For instance, the largest of the 2022 INFRA awards was the California Department of Transportation's (Caltrans) Otay Mesa East Port of Entry Project. Caltrans received $150 million to construct a new toll road and Port of Entry at Otay Mesa and "inspection equipment for the U.S. Customs and Border Protection, zero-emission chargers for staff vehicles, a Commercial Vehicle Enforcement Facility to be used by the California Highway Patrol and Federal Motor Carrier Safety Administration (FMCSA), and deployment of intelligent transportation systems (ITS) throughout the Port of Entry." This project will facilitate freight movement and spur job creation through a workforce pre-apprenticeship program.
Another project is the Hunts Point Terminal Produce Market Intermodal Facility in New York. New York City received $110 million to "redevelop the Hunts Point Terminal Produce Market intermodal facility with expanded refrigerated warehouse space and electric vehicle charging stations for trucks and cars." The new Produce Market will also include "824,600 square feet of refrigerated warehouse space with solar panels or a green roof." Among other benefits, the project will reduce emissions from idling diesel-powered truck refrigeration units.
National Infrastructure Project Assistance (Megaprojects)
On January 30, 2023, the Administration announced nearly $1.2 billion from the new National Infrastructure Project Assistance (Mega) discretionary grant program for nine projects across the country. Seven of the nine are transit projects. According to the DOT, these programs will create good-paying jobs, grow the economy, strengthen supply chains, improve mobility for residents, and make our transportation systems safer for all users.
For example, Amtrak received $292 million for Hudson Yards Concrete Casing, Section 3 (HYCC-3) in New York. This funding "will cover construction of the third and final section of the concrete casing intended to preserve future right-of-way for the new Hudson River Tunnel and allow for the continued redevelopment of Hudson Yards." The project is expected to reduce greenhouse gas emissions and make infrastructure systems more resilient to natural disasters.
Next, the Louisiana Department of Transportation and Development (LADOTD) received $150 million for the I-10 Calcasieu River Bridge Replacement Project. The funding "will design and construct a new Bridge over the Calcasieu River with three travel lanes and one auxiliary lane in each direction." According to LADOTD, this project will help improve air quality by removing an estimated 1.6 million tons of greenhouse gas emissions through congestion relief – though it is unclear if this project will lead to induced demand and therefore greater emissions.
Lastly, the DOT awarded $117 million to the Metra Commuter Railroad in Chicago, Illinois. This project will replace approximately 11 bridges along Metra's UP-N line. Additionally, "each replaced bridge will have a walkway and sacrificial beams, street repaving, underpass lighting, and pedestrian curb improvements." The project also provides climate benefits such as improving energy efficiency, improving air quality, reducing dependence on fossil fuels, and reducing congestion-related emissions.
Tribal Climate Resilience
In November 2022, the Department of the Interior (DOI) announced $135 million for the Tribal Climate Resilience program. DOI invested $115 million of that funding to Community Relocation for 11 tribes, and $20 million to Adaptation Planning for 34 tribes. Tribal Climate Resilience projects will support Tribes and Tribal organizations in adaptation planning, climate implementation actions, ocean and coastal management planning, capacity building, relocation, managed retreat, and protect-in-place planning for climate risks.
Explore the Outcomes Dashboard for more funding awards and projects.
About the author: Jaclyn Lea